Learning Through Play, Surrounded by Love!
For over 30 years, BUMP has provided children with their first school experience,
using an age appropriate curriculum that encourages a love of learning and creative thinking.
Children are provided opportunities to examine, explore, discover, inquire, investigate and problem solve.
They are encouraged to express themselves through art, dramatic play, and conversation.
Classes Available for Children Aged 2.5 - 5 Years
2, 3, 4, & 5 Day Schedules Offered
Standard Preschool Day: 9:30AM-12:30PM
(+ Optional Stay & Play for an additional 1 or 2 Hours)
- Students Bring Lunch
- Weekly Age-Appropriate Devotional Time in Classrooms
- Monthly Chapel Day
- Hands-On Mission Projects to Benefits our Neighbors in the Community & World

2018-2019 Registration:
Open to Current Families & Alumni Jan 23
Open to Community Feb 6

See our REGISTRATION PAGE for a link to the 2018-2019 Registration Form and Fee ScheduleWe welcome all children to learn, celebrate, and share Christ's life-changing love!BUMP is a ministry ofBurke United Methodist Church.

At BUMP, play is a fundamental
part of our preschool program.
Through play, children develop social skills, acquire knowledge, express feelings, and develop language skills. Play is essential for healthy emotional, social, and physical development.


​Creative Play
Music and Movement
Story Time
Dramatic Play
Arts and Crafts


​Physical Play
Preschool Playground
Indoor BIG Playroom
Sand and Water Tables
Manipulative Games and Activities
---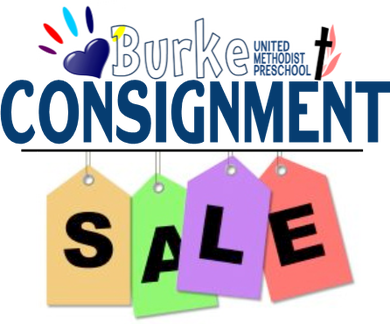 THANK YOU TO ALL WHO CONSIGNED, PURCHASED, AND VOLUNTEERED AT THIS ANNUAL FUNDRAISER! YOUR SUPPORT IS GREATLY APPRECIATED!
Saturday, March 10, 20188AM-2PM (Half Price 1-2PM)Click Here to see our CONSIGNMENT SALE page
​with all the details
.
---
---
---
Katie Glick, Preschool Director

6200 Burke Centre Parkway,Burke, Virginia 22015
703.250.3657
bump@burkeumc.org